403: Jake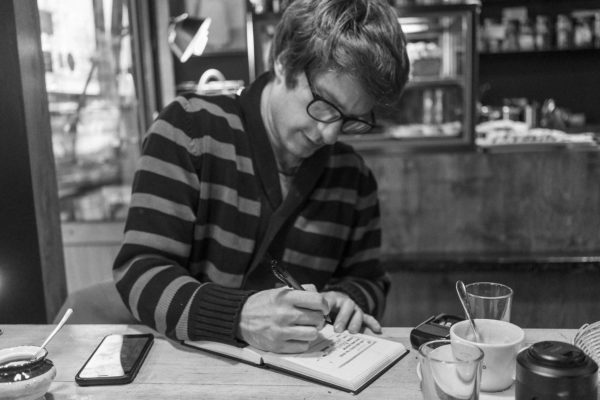 ---
It's getting trickier. I have been lazy. The idea was to meet people for coffee, not take notes and then try and write about the meetings, trying to remember what we talked about and remembering details about the people I have been meeting.
I like the idea that time, memory and forgetting play a part in this, but the longer I leave it, the more foggy it gets. I met Jake for coffee at 12noon on the first of November 2018 at a place called Mokalola in Shöneberg. Today is the 3rd of December so more than a month has past. Jake is the only person I already knew from London so it's going to be easier but I worry about writing about my other coffee meetings in Berlin.
So, as I said, I know Jake so it wasn't a meeting for the first time but a meeting for the first time in Berlin where he now lives. Jake was my daughter's, Klara, trumpet teacher and he was the one who introduced her to Jazz.
about a year ago, he moved to Berlin with his partner and two daughters. They live in a beautiful flat in Shöneberg, and this is the flat where I stayed when I came to Berlin a second time as they were all going to America and the flat would be empty.
Anyway, he took me to Mokalola, a café just around the corner from where they live. We had coffees and since it was lunchtime, we had German style breakfasts (the mixed one).
We talked about Berlin, how perfect it was if you have young kids, he plays in a band that plays Balcan music.
I'm not sure what we talked about, he's a friend so I wasn't trying to find out things about him.
Ah, here's an interesting fact about Jake:
Have you heard of Captain Ska?
It's a Ska protest band, started in 2010 with a song called Liar Liar about David Cameron.
Well Jake is Captain Ska.
---