Art, Life and Everything: A memoir
by Julie Umerle
BOOK LAUNCH
on Tuesday 24 September 2018
6-9PM
at studio1.1 , london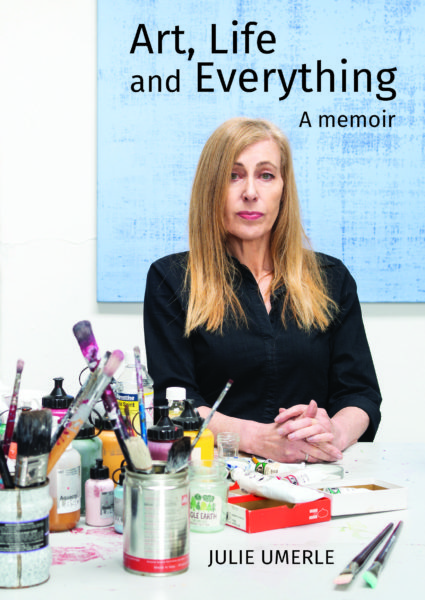 published by TRYPTIC
designed by Susak Press
studio1.1, London
57a Redchurch Street E2 7DJ
A thoroughly enjoyable read. Art, Life and Everything shows the importance and joy of painting and making art. It provides insight into how an artist functions in their studio and in the outside world. Julie presents an investigative and relevant example of how an artist has to struggle and continue to work on a professional level, for that is what they do throughout their careers.

Robin Klassnik OBE
Director and Founder of Matt's Gallery, London
Julie Umerle is an American-born abstract painter who lives and works in London. She is the daughter of an English mother and an American father of Polish descent. She studied fine art at Falmouth School of Art in Cornwall and at Parsons School of Design in New York City where she received a Master of Fine Arts.
Umerle has exhibited extensively in the UK and internationally, winning a number of awards for her work over the course of a career that spans four decades. Her paintings combine an experimental approach to materials with a distinctive sense of colour and use of space.
Art, Life and Everything is an account of her journey as an artist between the years 1978 to 2010, recounting her personal history during a time of extraordinary change in both the art world and the world at large.
studio1.1 is an artist-led, entirely not-for-profit gallery space set up in 2003, situated in Shoreditch, London E2.
'Art attempts to evoke something that you are not yet. Entertainment only talks to that person that you are now.'
Richard Foreman
Sračok & Pöhlmann, founded in Susak in 2006 by Herman Sračok and Rupert Pöhlmann, has long been a vital force in the contemporary art scene. It supports the work of leading contemporary artists as well as putting forward new and exciting artists, presents a broad and critically acclaimed program of exhibitions to a large public through international exhibition spaces in London, Susak and New York.
Their shows often explore contemporary cultural values, and eschew the bombastic tactics of other galleries for a more subtle approach which manages to be both glamorous and intelligent.