← Back to Artists List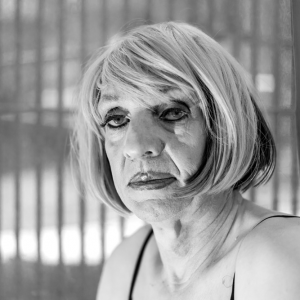 Dawn Chalkley
Dawn Chalkley (b. 1948) lives and works in London.
Dawn Chalkley dresses up, performs and writes monologues.
The stories she has to tell take place in seedy hotel rooms, lonely apartments, in bars and sex clubs and patches of woodland. Obsession, repression, sexual fantasy, secrets, solitude and a very bleak kind of humour are among the artist's subjects. The work is full of character, and the character is the artist's best invention.
The question is not so much who to be today, or what story to tell one-self, so much as whether to Hoover or to shoot oneself. The frock is on the hanger, and the revolver is on the table.
Looking at Brian Dawn's work I ask myself who is the stalker, who is the stalked?
Adrian Searle
Guardian Critic

In Conversation, Jessica Moore, Brian Chalkley and Dawn Chalkley
Splash at Dawn [graphic novel]
Manifesto of a Tranny [spiralbound]